THE PHYSICS GRADUATE PROGRAM invites everyone to the seminar: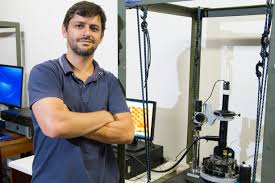 Spintrônica: Memória de hoje e lógica do futuro
Clodoaldo Irineu Levartoski de Araujo
Departamento de Física – (LabSpiN) – Universidade Federal de Viçosa
Abstract:
Desde a descoberta da magnetorresistência gigante, sua aplicação nas válvulas de spin e do tunelamento magnético a temperatura ambiente, os dispositivos spintrônicos aplicados como leitores de memória proporcionaram uma mudança de paradigma na tecnologia de informação. Atualmente, as memórias magnetorresistivas de acesso aleatório têm cada vez mais sido consolidadas como substitutas das limitadas memórias capacitivas baseadas em silício, dadas sua maior escalabilidade, não volatilidade e proteção contra agentes externos. Porém, apesar da crescente integração dos dispositivos spintrônicos em substituição a tecnologias atuais, pouco se avançou para consolidação prática de dispositivos lógicos baseados no grau de liberdade de spin. Neste seminário serão abordadas algumas propostas de memórias magnéticas com maior potencial de gravação e de transistores lógicos baseados em dispositivos spintrônicos.
Date: October 11, 2019 – (friday) – Place: Sala 212 – Auditório do Departamento de Física – Time: 10:15 a.m.
Comments
Tags:
seminário