THE PHYSICS GRADUATE PROGRAM invites everyone to the seminar:
Computação Quântica: da Ciência à Tecnologia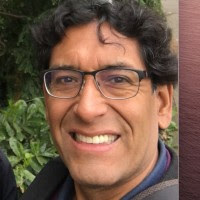 Prof. Enrique Solano
University of the Basque Country, Bilbao, Spain
Abstract:
Haverá uma introdução pedagógica à computação quântica do ponto de vista histórico, científico e tecnológico. Em seguida, será apresentada a transição da computação quântica da ciência fundamental para a possibilidade de revolucionar a tecnologia com aplicativos impossíveis para a computação atual. Por fim, comentar-se-á sobre as possibilidades de desenvolvimento da carreira de pesquisador na área de negócios, tanto na área de software e hardware, clássica e quântica.
Biografia
Enrique Solano obteve o título de Mestre em Física pela Pontifícia Universidade Católica do Peru, em Lima, Peru, e o Doutorado em Física pela Universidade Federal do Rio de Janeiro, Brasil. Ele trabalhou como pesquisador no Max-Planck Institute for Quantum Optics, Garching, e na University Ludwig-Maximilian em Munique, Alemanha. É Professor Ikerbasque e diretor do centro internacional "Quantum Computing and Quantum Technologies (QUTIS)" da University of the Basque Country, Bilbao, Espanha, bem como Professor Ilustre e diretor do centro internacional "Quantum Artificial Intelligence for Science e Technology (QuArtist)" na Shanghai University, China. Em 2020 ele ocupou o cargo de Gerente Geral da empresa IQM Germany em Munique, Alemanha, pioneira e líder europeia em computação quântica. O Prof. Solano é um especialista em computação quântica e tecnologias quânticas, nas quais tem feito contribuições científicas e tecnológicas de impacto internacional. Ele publicou mais de 250 artigos científicos e seus centros de pesquisa são considerados think-tanks influentes de alta originalidade e produtividade. Este ano 2021 o Prof. Solano planeja criar empresas de consultoria e desenho disruptivo de computadores quânticos na Alemanha, para Europa e o mercado mundial.
Date: April 16, 2021 – (friday) – Time: 10:15 a.m.
link to access the youtube channel: https://youtu.be/w4Af1kt4IPA
Comments