THE PHYSICS GRADUATE PROGRAM invites everyone to the seminar: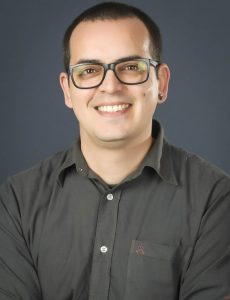 Física com o jogo Rock-Paper-Scissors
Prof. Dr. Breno Ferraz de Oliveira | Universidade Estadual de Maringá
Abstract:
Está é um seminário sobre sistemas complexos. Apesar do nome da área, o assunto é simples como vocês irão ver. Mais especificamente abordaremos os trabalhos com dinâmica de populações utilizando as regras do jogo pedra-papel-tesoura (também conhecido como Jokenpô). Por exemplo: Imaginem três tipos de bactérias, a bactéria pedra, a bactéria papel e a bactéria tesoura. Agora imagine que vamos distribuir aleatoriamente essas bactérias em um espaço e permitir que elas se movimentem, reproduzam e compitam seguindo as regras do jogo pedra-papel-tesoura. Após muitas interações essas bactérias foram um padrão espacial de espirais. Nosso interesse está em estudar esses padrões e entender como eles se formam. Fazemos todos esses experimentos no computador. Com isso, podemos acrescentar mais tipos de bactérias como as bactérias Lizard e Spock (generalização do Jokenpô), bem como mais interações como morte por inanição, mutação, mobilidade direcionada, entre outras.
Date: August 6, 2021 – (friday) – Time: 10:15 a.m.
link to access the youtube channel: https://youtu.be/tG_VUkwy0mM
Comments