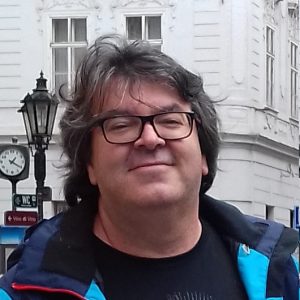 THE PHYSICS GRADUATE PROGRAM invites everyone to the seminar:
Eventos silenciosos no Grande Colisor de Hádrons: Uma janela para uma nova física
Prof. Dr. Victor Paulo Barros Goncalves
UFPel
Abstract:
Uma parcela significativa dos processos de colisões entre hádrons em altas energias tem propriedades análogas ao padrão clássico da difração da luz e são caracterizados por um número pequeno de partículas no estado final em contraste aos eventos típicos presentes nas colisões próton – próton, próton – núcleo e núcleo – núcleo. Nos últimos anos, diversos autores demonstraram que estes eventos "silenciosos" proporcionam novas possibilidades para a investigação da Eletrodinâmica Quântica e Cromodinâmica Quântica em altas energias, bem como para a busca de Física além do Modelo Padrão. Neste seminário irei revisar a descrição das colisões hadrônicas no Grande Colisor de Hádrons e como os eventos silenciosos são gerados. Além disso, apresentarei os resultados recentes obtidos por nosso grupo para o espalhamento da Luz pela Luz e para produção de partículas do tipo – Axion e de fótons escuros no LHC, os quais demonstram que o estudo dos eventos silenciosos podem ser utilizados para provar a presença e para vincular os possíveis cenários de uma nova física.
Date: June 24, 2022 – (friday) – Time: 10:15 a.m.
link to access the youtube channel: https://youtu.be/i7i9l-Y-FV0
Comments