The Graduate Program in Physics of UFSC changed the schedule the admission process's notice to the Master and PhD programs entrance at the semester 2020/2.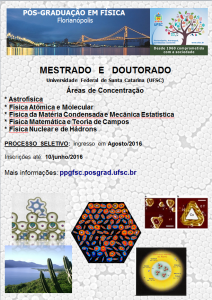 Applications were extended until November 9, 2020 at 5 pm. The PPGFSC uses the grade achieved in the Brazilian Unified Exam of Physics Gradu-ate Courses (Exame Unificado de Pós-graduações em Física – EUF) for admission to the Mas-ter's and Doctoral Programs.
ATTENTION: Your EUF grade 2-2020, which will be applied on the data of  November 16, 2020, will be accepted in this admission process.
---
Final Results – (November 20, 2020)
---
Approved applications after analyzing the filling of appeals – (November 16, 2020)
---
Approved Applications – (November 10, 2020)
---
Using EUF note 2-2019 Ordinance – (October 19, 2020)
---
Altering Schedule Ordinance – (October 8, 2020)
---
Scholarship Committee Ordinance – (October 6, 2020)
---
Selection Committee Ordinance – (September 25, 2020)
---
Call for Applications – (September 1, 2020)
---
Application Form – (Registrations closed on November 9, 2020 at 17 hours)
Master´s Program
Doctoral Program